Hybrid CoE, together with the Multinational Medical Coordination Centre / European Medical Command (MMCC/EMC) and the German Federal Office for Civil Protection and Disaster Relief (BBK), hosted Resilient Response 2020 (RERE 20) from 24 to 26 November. RERE 20 was an online pandemic response exercise in which national teams strove to protect their populations from a novel virus, while simultaneously countering hybrid threats.
Over the course of three days, participating nations played out four consecutive rounds of a pandemic scenario, beginning with the initial outbreak of a novel disease and ending with the availability and distribution of a vaccine. Each round had a specific focus and characteristics, including hybrid influencing factors.
The main objectives of the exercise were:
To practise a whole-of-government response to a crisis situation (Epidemic/Pandemic) influenced by hybrid threats on the basis of existing emergency concepts, best practices and lessons identified / learned during the COVID-19 pandemic.
To increase decision-makers' awareness of the complexity of decision-making.
To practise cross-governmental coordination and cooperation within an epidemic / a pandemic hybrid crisis scenario.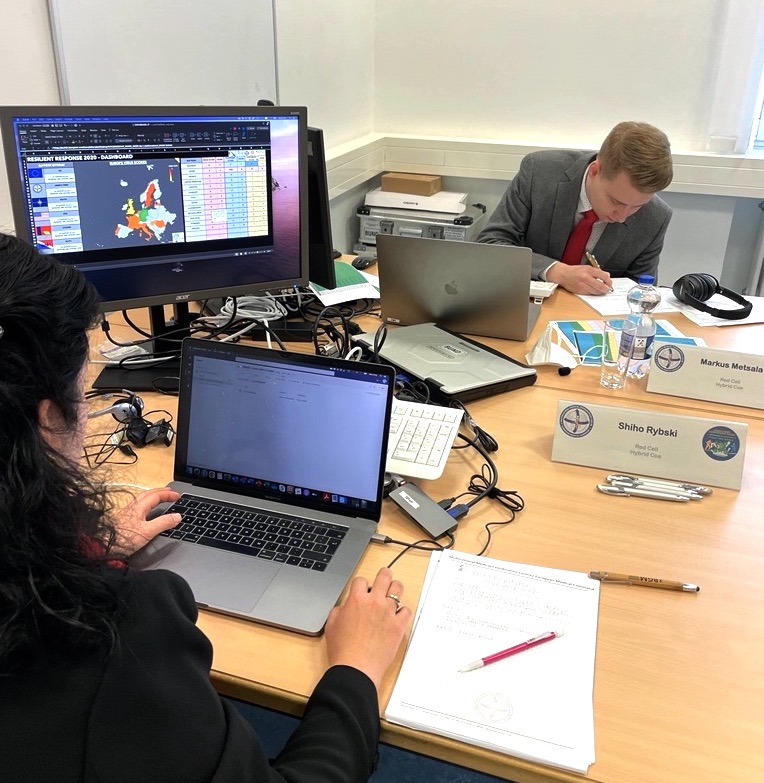 The exercise featured 12 national teams, with representatives from the EU, NATO and USEUCOM totalling over 120 participants across Europe. In the end, all of the teams were successful in overcoming the pandemic and keeping hybrid threats at bay, thanks to effective national responses and solidarity within the EU and NATO communities.
RERE 20 highlighted the importance of social resilience for countering hybrid threats. Proactive messaging stood out as a crucial tool for dealing with disinformation. Nations that benefitted from diverse, cross-government teams showed creativity in their responses to hybrid threats. They used the exercise to experiment with different approaches and were the catalyst for knowledge expansion among players.
Based on feedback and evaluation, the exercise objectives were achieved. RERE 20 supported the fail-safe practice and enhancement of planning, communications and decision-making in a credible and relevant scenario. There is now a greater understanding of the capacities and procedures for EU and NATO cooperation mechanisms, which will increase preparedness and facilitate a quicker response.
The exercise enabled the comparison and evaluation of national crisis management strategies and enhanced the exchange of experiences and strategies to deal with the current COVID-19 pandemic.