The German-led Community of Interest on Strategy & Defence focuses on hybrid warfare, related strategies and implications for security policy, the military and defence. It aims at uncovering the essence and nature of hybrid warfare, as well as the logic and pattern of hybrid strategies in order to develop a solid analytical framework as a basis for the assessment of current and future hybrid warfare situations and their practical implications.
The overarching objective of COI S&D is to contribute to enhancing the common and comprehensive understanding and judgement of participants, the EU and NATO as a precondition for improved situational awareness, as well as for joint and comprehensive action in countering and responding to hybrid warfare.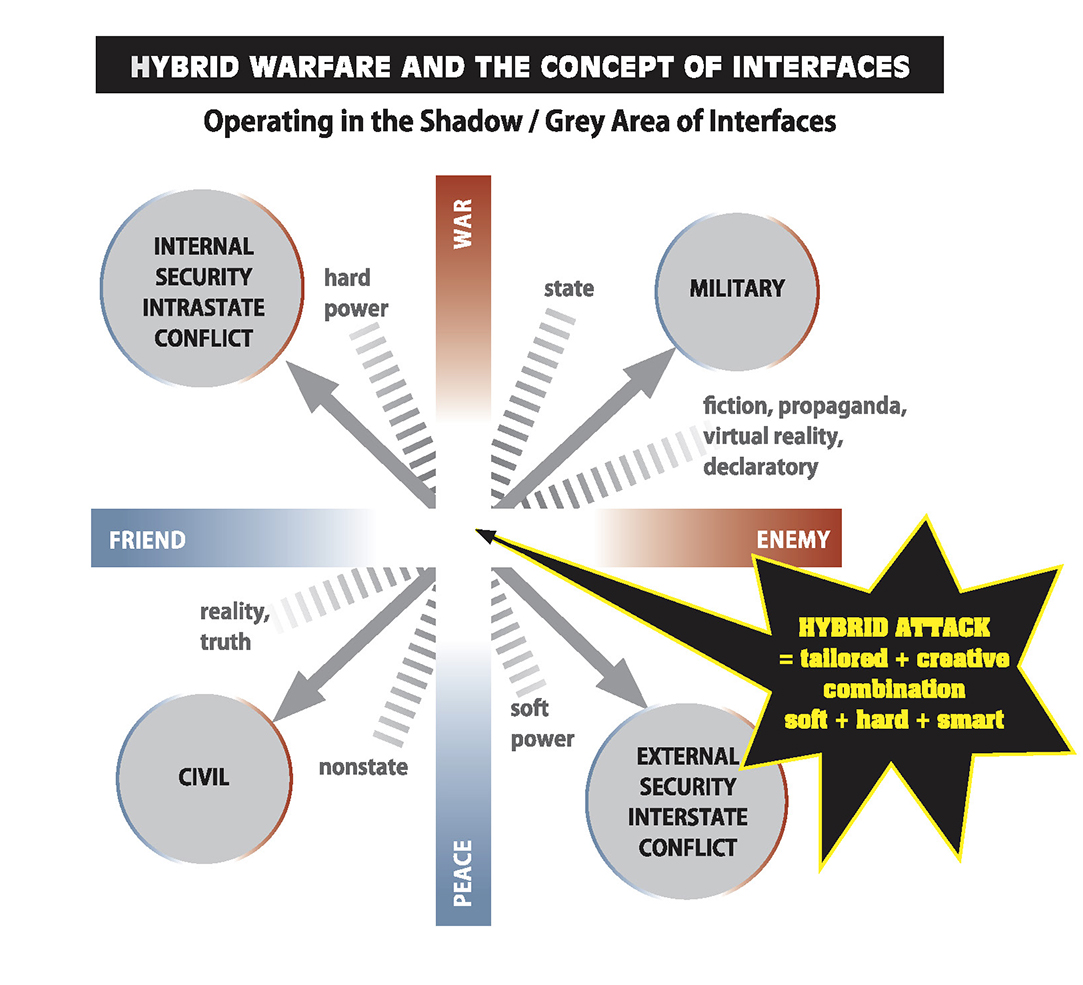 COI S&D follows an interdisciplinary, practical as well as academic-based approach, combining empirical evidence with the theory of war and strategy. In order to cover the different angles and perspectives of the topic, COI S&D follows five interconnected lines of effort related to:
COI S&D aims at uncovering the essence/nature of hybrid warfare as well as the logic and pattern of hybrid strategies. This includes military, defence and use-of-force perspectives with the overarching goal of conceptualizing hybrid warfare and developing a respective analytical framework.
In order to develop theory based on empirical evidence, COI S&D focuses on hybrid warfare cases (current, historical, comparative), with examples including the war in and regarding Ukraine, the Second Indochina War, and Syria as a 'hybrid battlefield'.
COI S&D focuses on new technologies, respective future trends and their potentially disruptive implications in the context of hybrid warfare/conflict. The Hybrid Warfare Future and Technologies project (HYFUTEC) as well as the workstrand on Cyber Power in Hybrid Conflict/Warfare (CPH) are spearheading this endeavour.
COI S&D addresses perspectives of hybrid warfare as an interdisciplinary challenge for security and peace, as well as for legality and ethics. It ultimately aims at discovering ways to prevent, contain or peacefully end hybrid warfare. Each line of effort goes hand in hand with respective events, the building up of networks and the compilation of products in the form of reports, concept and inspiration papers, as well as academic-based publications.
Three crosscutting workstrands are currently spearheading the endeavour:
Hybrid Warfare: Future and Technologies (HYFUTEC)
New technologies have a catalytic effect on hybrid methods and tools. They improve the starting conditions for hybrid action, expand the arsenal of hybrid players and thus help to increase the reach of their activities as well as their prospects of success. At the same time, new technological developments may offer options to better identify, understand, defend against and counter hybrid attacks. It is therefore important for political, civilian and military leaders and decision-makers, as well as for industry and academia, to develop a comprehensive understanding of the implications of new technologies in a hybrid warfare/conflict context. With this in mind, COI S&D have initiated the Hybrid Warfare: Future & Technologies (HYFUTEC) project, aimed at assessing and enhancing understanding of the disruptive potential of new technologies in the context of hybrid warfare/conflict. The project was launched in March 2019 with a series of events (in Helsinki, Berlin, Vienna, and Stockholm). Within its broad future & technology horizon scanning, the project has identified 19 technological trends with urgent and profound implications in the context of hybrid scenarios.
Cyber Power in Hybrid Warfare (CPH)
COI S&D initiated its workstrand on Cyber Power in Hybrid Warfare/Conflict (CPH) in 2019. The main objective of this workstrand is to raise awareness of, identify and address relevant strategic questions and issues regarding cyber power and the cyber domain in the context of hybrid conflict/warfare. The workstrand focuses in particular on identified research gaps at the interface between hybrid warfare/conflict and the cyber domain. The endeavour includes the identification of potential stakeholders – contributors to the creation of a network of experts on the topic, with an emphasis on participation by the military, academia and industry. The CPH workstrand got underway with a symposium in Helsinki (Nov 2019) and will include annual events.
Related experts