Teams from five Participating States, the EU and NATO, together with countering disinformation experts and journalists, gathered in Brussels this week with the aim of enhancing capacities to counter disinformation. The third Countering Disinformation Wargame (CDWG) event consisted of a one-day conference, 'Demystifying Disinformation', and a countering disinformation wargame exercise.
The conference provided a deep dive into disinformation as a phenomenon in today's complex information environment. The expert addresses and two panel discussions explored the characteristics and actors behind disinformation, as well as ways to counter it.
In his keynote speech, Jamie Fly, President and CEO of Radio Free Europe/Radio Liberty, emphasized the key role that a free press plays in democracies, despite the fact that independent media outlets are struggling today. Mr Fly also stated that the fragmented information environment, together with eroding trust, creates room for malign influence and disinformation.
"How can quality journalism work to counter disinformation and defend democracy?" was the question posed by Paul Taylor, Contributing Editor from POLITICO Europe. "By just doing its job, being there on the ground," he answered, emphasizing the utmost importance of cross-checking sources.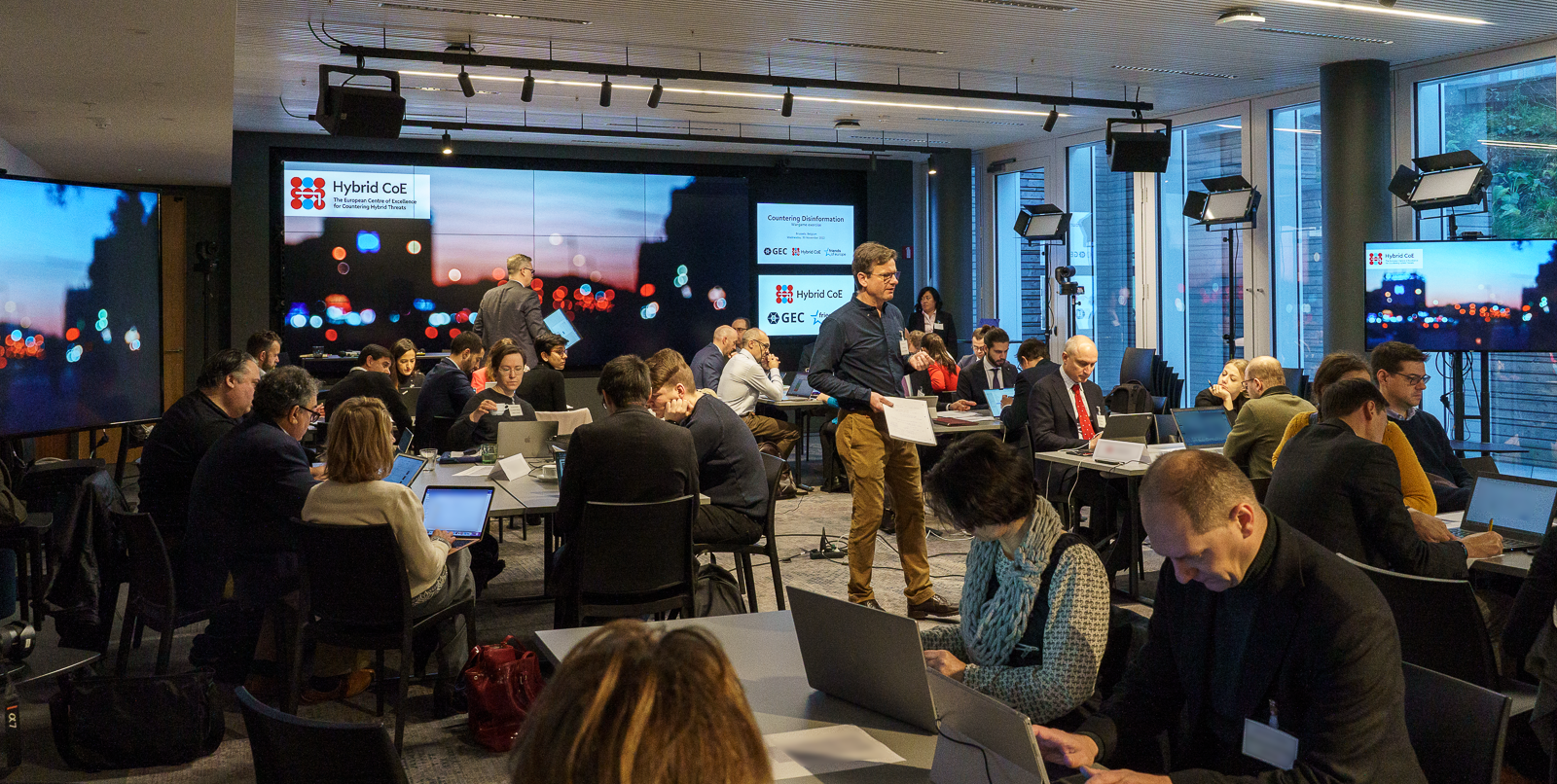 By simulating real-world scenarios, the aim of the wargame exercise was to raise awareness of disinformation and offer participants the opportunity to practise the best approaches to recognizing, responding to, and defending against disinformation.
"Russia's war in Ukraine and its disinformation activities around the world have heightened the importance of countering disinformation wargaming today. Our wargame scenarios reflect the Kremlin's real-life intentions to use energy and food as weapons, and to use disinformation on these topics to sow distrust and division among democratic societies," Hybrid CoE's Director for Training & Exercises Shiho Rybski said. "Hybrid CoE will continue to train its Participating States, the EU and NATO in countering disinformation through wargaming in the future as well."
The event was the last in the series funded by the US Global Engagement Center. The Brussels event was organized in cooperation with Friends of Europe.